Over at
Life Is Too Short Not to Wear Red Shoes
, there's a great portrait photo contest open until May 6. It`s fun and there are prizes to be won. I needed no persuading - I love taking portraits and I get to see other`s great photos. What`s more to like? You can enter up to 2 photos - they just have to have been taken by you and be portraits.
Here are my entries...
So click on the button and get over there...oh, and good luck!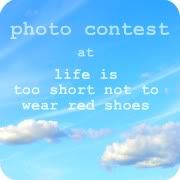 It`s been a sad day in my part of the world today - my family, friends and I are all fine. Thank you for your kind wishes and concern.